For centuries diamonds have been regarded as magical, beautiful, mysterious, and powerful. They have been sought after, fought over, and even worshiped. Diamonds are associated with wealth, achievement, status and love. Consequently, people buy diamonds for all of these reasons, but the single greatest reason is as a token of love!
However, most diamonds are not as beautiful as they could be. The term "ideal" is widely used today when referring to a diamond.
The ad say's "come in and see why our ideal-cut diamond is....."
Come in and let us show you what an Ideal-cut diamond is, and why there is only one true Ideal-cut diamond. It is not a store or national brand, but a narrow set of proportions, together with a measure of the light performance of the diamond. We'll help you understand what the World's most beautiful diamond is made of! There is a difference.
We specialize in selling IDEAL-CUT diamonds. IDEAL-CUT diamonds are the world's most beautiful! All diamonds have some brilliance, but an ideal-cut will offer the maximum balance of brilliance, sparkle and fire.
When a diamond is cut even slightly too deep or too shallow (as is most often the case), light "leaks" out of the bottom of the diamond instead of reflecting back at you. This explains why some diamonds are so much more brilliant than others.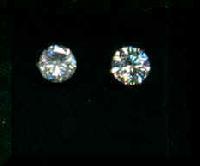 Here are two diamonds with GIA reports that have the same color and clarity grades.
Do you know what can not be found on any diamond report? BRILLIANCE, or SPARKLE
Here we have put an ideal-cut diamond and a "spread" or too shallow diamond side by side directly on our scanner. Can you believe the difference? These are both round brilliant-cut diamonds with 58 facets! They just have different proportions.
We would welcome the opportunity to demonstrate to you in person the difference that cutting makes in a diamond. Keep in mind, there is nothing pretty about a diamond until man cuts it (usually in to a round brilliant with 58 facets), and depending on the proportions, it can be a stunning diamond, or a diamond lacking brilliance and fire.
The Forgotten C - A Cut Above All Others
Most people have heard of the 4 C's of diamond grading. They are Cut, Color, Clarity & Carat weight. Unfortunately, Cut is the least understood factor in diamond grading. In gem quality diamonds, Cut has more to do with beauty than any single characteristic of the 4 C's. Cut has a lot to do with value and price, too. One may choose to compromise on color, clarity or size, but to ensure that you have the most brilliant diamond possible, never compromise on cut.
An Ideal Cut is simply a diamond cut to ideal proportions. In the early 1900s, mathematician Marcel Tolkowski published the results of his work (Diamond Design, London, 1919) which became the basis for the model known today as the "Ideal cut". Although present tastes call for slightly larger tables than the 53% of the girdle diameter that was worked out by Tolkowski, for almost seven decades this basic formula remains the standard in the diamond world. Ideal cut dictates that every facet be placed at exact angles and proportions that create an ideal balance between maximum brilliance (return of light to the eye) and dispersion or "fire" (the prism effect that separates white light into its spectral colors). To gain this optimum reflection and refraction of light, the cutter must be willing to sacrifice expensive material, losing valuable carat weight to yield a smaller diamond of superior beauty.
Ideal cut diamonds often involve substantial weight loss versus diamonds cut
only for size as in above drawing. Note: larger stone would have a big table,
shallow crown angles and a "knife edge" girdle.
How is an Ideal Cut different from other diamonds?
Most diamonds are cut for weight and therefore precise angles and percentages are routinely ignored. Diamond cutters usually decide to sacrifice some beauty to make a heavier diamond and as a result
less than 1% of diamonds
are cut to ideal proportions. The larger diamond with average cutting is produced in less time, at lower cost and of course, is not as beautiful as it could be. Ideal cut diamonds are not for everyone and because they are more costly they appeal to that unique individual who appreciates and demands excellence.
Understanding Flouescence in Diamonds
Gems & Gemology. Volume 33 Issue 4
Many customers assume Fluorescence is bad without knowing a thing about it!! Yes, sometimes fluorescence can make a diamond look milky, but that is not the norm. More often fluorescence can make a diamond appear whiter!
It is my hope that the following short articles will help you understand fluorescence.

The Hope Diamond, one of the most famous diamonds in the world, experiences a more rare form of fluorescence. The 45.52ct natural blue diamond fluoresces a bright red under ultraviolet light. The effect is quite eerie, especially if you believe the stories of the cursed blue diamond.
A Contribution to Understanding the Effect of Blue Fluorescence on the Appearance of Diamonds
Thomas M. Moses, Ilene M. Reinitz, Mary L. Johnson, John M. King, and James E. Shigley
The presence of fluorescence in diamonds has been for some time a subject of controversy in the trade.GIA Gem Trade Laboratory (GIA GTL) researchers designed a visual experiment to study the effect of fluorescence on diamond appearance.
'Observers in this study found blue fluorescence to have, at best, a subtle effect on color appearance and transparency, said Thomas Moses, GIA GTL vice president of identification. The study's results indicated that average observers, like those in the jewelry buying public, saw no systematic differences in color or transparency with fluorescence.
In general, the strength of fluorescence had no perceptible effect on the color appearance of diamonds viewed table-down. In the table-up position, diamonds with strong fluorescence were reported to have a better color appearance than those with less fluorescence. This study challenges the industry notion that fluorescence has a negative effect on better-color diamonds. GIA's result supports considering each individual diamond on its own visual merits.
s.
The Impact of Fluorescence in Diamonds: A Different Research Perspective
The effect of ultraviolet fluorescence on diamond appearance has been hotly debated for at least the past decade. With great conviction, some say that blue fluorescence of different strengths typically enhances a diamond's overall appearance. Others, as convincingly, say that it has a negative effect. To address this controversy, researchers at the GIA Gem Trade Laboratory conducted an experiment on the effects of long-wave ultraviolet radiation on the color appearance and transparency of gem diamonds.
The study's results support the age-old belief that strong or even very strong blue fluorescence can improve appearance rather than detract from it, especially in diamonds with faint yellow body color.
While the apparent benefits of blue fluorescence are less obvious in colorless to very near-colorless diamonds, they still were evident in the study. This should bring into question the trade's lower 'bid' prices for moderate to highly fluorescent diamonds in the better colors.
The science of gemology is not just about spectral analysis. It is also about dispelling (or, in some cases, confirming) beliefs that have been perpetuated over the years, and about separating bias and tradition from reality in the gem industry.
Please visit
www.heartsandarrows.com
for more information, or stop in to see these magnificent diamonds.